Universal Currency Authentication System (CAS-2002)
Currency Authentication System is the maximum security in the area of fake banknotes detection. The system has embedded micro controller, IR-UV-Magnetic plus metal thread detectors and Optical sensing mechanism. IR & UV sensors, which will enable it to check any kind of counterfeits and to verify the authenticity of banknotes.
Infrared & Ultraviolet
The analysis of the banknote is made with an array of sensors. The amount of IR light that passes through the currency is sensed using IR sensors and the amount of UV light that is reflected by the currency is sensed using UV sensors. These frequencies are invisible to human eyes, hence this forms the basis of comparison of the hidden images in a currency note. When comparing these parameters with pre-programmed reference templates, it is easy to determine if the banknote is genuine or counterfeit.
Magnetic Ink + Metal Thread Detector
"Non-contact" type magnetic plus metal thread detectors determine the presence of magnetic ink.
Optical Sensors
As the banknote passes through the device, three optical sensors located in the sensing chamber determine the exact length of the note. They are also used to determine possible sources of error (bad introduction of the banknote into the machine, jamming, etc.).
Future Upgrade
Depending on the specific needs of the machine users or the release of new range of banknotes, the machine can be updated by connecting to a computer in order to download the new parameters of detection, Downloading can be local or on-line (secure internet link)
Product Features
Detects counterfeit currency.
Genuine currency pass through.
Counterfeit currency ejects.
Open/close top cover.
RS 232 port for computer connectivity.
Green LED indication for genuine currency.
Red LED indication for counterfeit currency.
Adjustable guide for different widths of currencies.
IR, UV, Magnetic Plus Metal Thread Detectors and Optical Dimension detection.
High efficiency & more accuracy
Benefits
Controlling the circulation of counterfeit currency notes reduces threat to nations economy
Electronic detection methodology hence fatigue free
Comprehensive detection, 5-way methodology for 20 countries currency
Key Features
Portable & Compact size
Detection speed: 0.8 sec/note
5-way detection mechanism
Software upgrade through serial port.
Detection of currencies of 20 countries in a single machine.
Automatic Currency Banding Machine (ABM-300)
The Automatic Banding Machine ABM 300 is a tabletop space saving and time saving aid in bank note processing. Machines are available exclusively for the tight banding and packaging of loose currency bank notes. It is easy, fast, safe and economical to use.
The device ensures accurate and cost efficient banding of all currency denominations. The technology of heat sealing ensures firm banding. ABM 300 is designed and developed to perform both horizontal and vertical banding (cross banding). This facilitates the customer to band the bank notes firmly, prevents tampering of the notes.
The Automatic Banding Machine is controlled by a micro-controller and all the operations are fully automatic. Depending upon the requirement of various customers, the banding tape required for ABM 300 shall be supplied in plain or custom printed.
Key Features
Banding of all currency denominations.
Fully automatic, easy, safe to use.
Hot pressing technology.
Shortest Operational time.
Minimized Dimensions & Weight.
Benefits
By use of this device, it is possible to put a stop to the cumbersome efforts for packaging bank notes.
The device is rugged & reliable designed for heavy-duty use in banks.
Easy to operate and carry
Key words search: Banks, Industrial Food Service & Retail Point of Sale, POS Equipment Money handling & counting, Universities, Engineering, scientific, Lensed Fibers, Shaped fibers, tapered fibers, fiber cables, fiber optics products, lensed fibers pigtails, high power laser diodes, fiber coupled units, counterfeit detectors, money checkers, automatic banding machines, automatic currency banding machines, fingerprint door locks, scientific kits.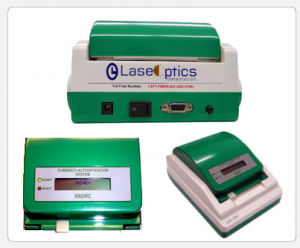 If you need large quantities, please call us for better price: 1-716-903-9195 or sales@laseoptics.com
Where to Use
Department stores
Casino, Gas Stations
Malls, Banks, Post offices
Money Exchangers, Night Clubs
And Many Others
Specifications & Characteristics
Size 218 x 317 x 114
Weight 1.7 Kg (3.75 lb)
Power Supply 110 V or 230V-50HZ
DC Voltage 14 V
Consumption Max 10.5 W
Speed of detection .8 second/note
Operating temperature 0 — 50C
Humidity Up to 95% RH
Currency feeding Single note at a time
Key words search: Banks, Casino's, Industrial Food Service & Retail Point of Sale, POS Equipment Money Handling & Counting, Counterfeit Detectors, Universities, Engineering, scientific, Lensed Fibers, Shaped fibers, tapered fibers, fiber cables, fiber optics products, lensed fibers pigtails, high power laser diodes, fiber coupled units, counterfeit detectors, money checkers, automatic cross banding machines, automatic currency banding machines, fingerprint door locks, scientific kits
Technical Specifications
Variable depending on size of Currency & type of banding

1). Vertical & horizontal (Cross Banding)

2). Vertical / Horizontal also

Normal length of paper loop

Heating time / warm up time

Feeder Capacity of Band Roll

Hot Pressing Automatic Banding

Custom band roll can be supply with their logo and/or Bank Name / Emblem.

110V +/- 10 % or 220V, 50 Hz

00 C to +500 C and/or 1220 F